Frontend Software Developer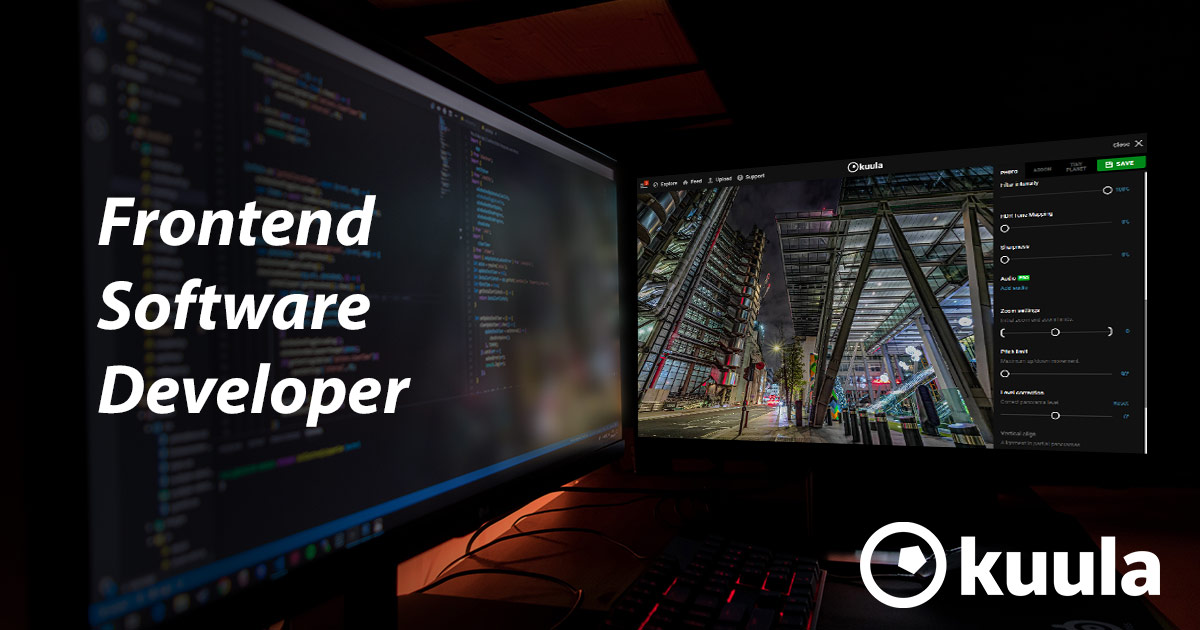 Kuula is looking for a Frontend Software Developer to join our team and work with us on creating some awesome software and intuitive user interfaces.
The pitch
Kuula offers a cutting-edge virtual tour editor that's taking the real estate and architecture industries by storm. Our software is revolutionizing the way people experience virtual spaces on the web, view real estate properties and present architectural design projects.
Founded in 2016, Kuula quickly became an established brand with a world-wide customer base. The company is based in Santa Monica, CA.
What you will be working on:
Your main task is going to be writing great software, it is as simple as that.
The software that you will work on consists of websites & web-based applications, the biggest part of which is our virtual tour editor. Your role will include both helping us build new products and features as well as supporting and maintaining existing ones. We are a small team, so you will have a great degree of ownership of the projects you work on.
What we are looking for:
You have to be excellent with Javascript, HTML & CSS.
The ideal candidate should have a minimum of 3 years of experience in a front-end development role and the skills needed to develop user interfaces that are not only functional but also great looking and user-friendly.
You should be proficient in HTML, CSS, and have a good understanding of responsive design principles. You should also have a very solid experience with Javascript. Finally, you need to be comfortable working with GIT, Github and version control systems.
In addition to technical skills, we'd love you to have relevant work experience in the startup/software industry. You should have a solid understanding of the fast-paced and constantly evolving world of front-end development.
Ways to stand out:
Below is a list of skills that are not required but will make your job application stand out:
experience with WebGL and WebXR (Virtual Reality)
understanding of backend & server-side programming
documented contributions to open source projects
What we offer:
Founded by coders, we strive to make Kuula a great place for writing software. We offer a relaxed, small-business atmosphere. You will spend most of your time planning, writing and testing your software and much less in meetings or conference calls.
Working at Kuula will give you an unique opportunity to develop technical expertise, master the art of building software that users love and learn how to generate great value with your coding skills.
The position is full time.
About Kuula
Kuula is a leading 360 Virtual Tour software provider. It is used by over 350,000 photography professionals and companies all over the world. Kuula is home to over 10 million photos and over 700,000 virtual tours. Our content is shared across major social networks, real estate listing portals and websites.
Kuula is privately owned and was founded in 2016 in Santa Monica, California.