Dinosaur Ridge Museum in Colorado uses Kuula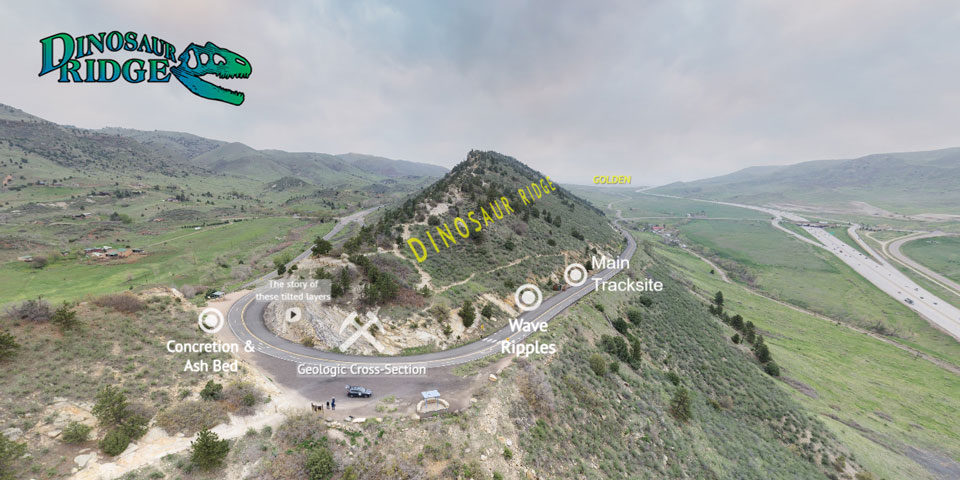 For those who are fans of all-things dinosaur, here's a great Kuula tour to check out—the new 360 Virtual tour of Dinosaur Ridge, which is an outdoor earth science museum located in the foothills just west of Denver Colorado, USA.
How did the project started?
What started out in 2016 as a photo experiment to test out a new 360 DSLR camera rig, ended in late 2021 as a fully developed virtual tour with more than forty, full 360 panoramas and dozens of info-packed cards loaded with photos, maps, videos and animations. The experiment also turned practical as the COVID pandemic restricted the assembly of tour and school groups to Dinosaur Ridge. In this case, the Kuula tour provided a timely opportunity to bring Brontosaurus bulges and Ornithomimus footprints right to your phone or computer. You can visit it here:
How Kuula helped you create this immersive experience?
The Kuula tour replicates the experience of walking the two-mile Ridge Trail which features stops of diverse geologic and paleontologic importance. Of course, there is nothing like 'being there', but using Kuula's robust annotation tools allows users to learn in detail about many of the site's fascinating features—all in a 360 immersive space.
Unlike labeling walls and floors in a traditional real estate tour, Kuula authors can easily rotate hotspots and interpretive icons to match the organic orientations of real rock layers. Choosing hotspot locations takes some trial and error as nature, not rooms in built space, dictates the best vantage points based on topography, vegetation, and outcrop orientation. Often optimum views are floating targets above ground level.
Also, the ability to embed images on cards allows users to inspect details, some of which are either hard to see in the field or are off limits for visitors at Dinosaur Ridge. Perhaps the most valuable tool has been the use of 360 drone photography which allows viewers to gain perspectives not available from a ground-based field visit. Add the ability to create custom icons and the repurposing of audio files (already in use by on-location visitors) completes the virtual experience.
What people say about the tour?
The Dinosaur Ridge 360 Tour works so well to virtually explore the geology and paleontology sites. From local students to use before or after a field trip or for people on the other side of the globe to experience our fossils, it's a tool that can be used by millions! Erin LaCount
Education Programs Director, Dinosaur Ridge
The Dinosaur Ridge Virtual Tour is the next best thing to actually visiting the ridge along with your own personal geologist tour guide! Being able to not only view these formations in isolation, but understand where they are spatially provides a deeper level of understanding than could be provided in any other format. Ben Gondrez
Interim Manager of Interactive Exhibits and AV Systems, Denver Museum of Nature and Science
As a classroom teacher, I was always looking for ways to bring place-based learning into my curriculum. Getting students outside on field trips is an important way to do this. Having the Dinosaur Ridge Virtual Tour for students to explore both before and after a field trip to the site will enhance their experience, and provide a way for them to continue to recall and share their experience with others. It is comprehensive and can be used by a wide variety of grade levels. It is engaging to use, and filled with wonderful photos, videos and graphics that make Dinosaur Ridge come to life. Vicky Jordan
Teacher in Residence, Colorado State University
What's next?
We are teaming up with educators to create activities for student groups who are planning their field visits with pre-trip exercises as well as post-trip review activities. Dinosaur Ridge staff will be modifying and adding more content to the Kuula tour, including new videos and animations that focus visitors' attention on single topics such as fossilization, dinosaur behavior, and oil and gas resources.
We also hope to offer the tour in Spanish with the creation of supporting audio and videos accompanied by translated annotations to reach even larger audiences.
For a limited time, you are invited to visit Dinosaur Ridge's 360 tour and offer your suggestions to make it even better.
About the author
Herb is a former professional geologist, educational scriptwriter, and more recently, a retired TV video producer from the Poudre School District in Fort Collins, Colorado. He has produced hundreds of short films, video stories and animations over the years - many of which are connected to earth science, natural resources and the people connected to these fields. Herb continues to create media content for the City of Fort Collins and volunteers for Larimer County as a Naturalist and for Dinosaur Ridge as the creator of their new 360 Virtual Tour.