Digital Escape Rooms - an example created using Kuula Virtual Tours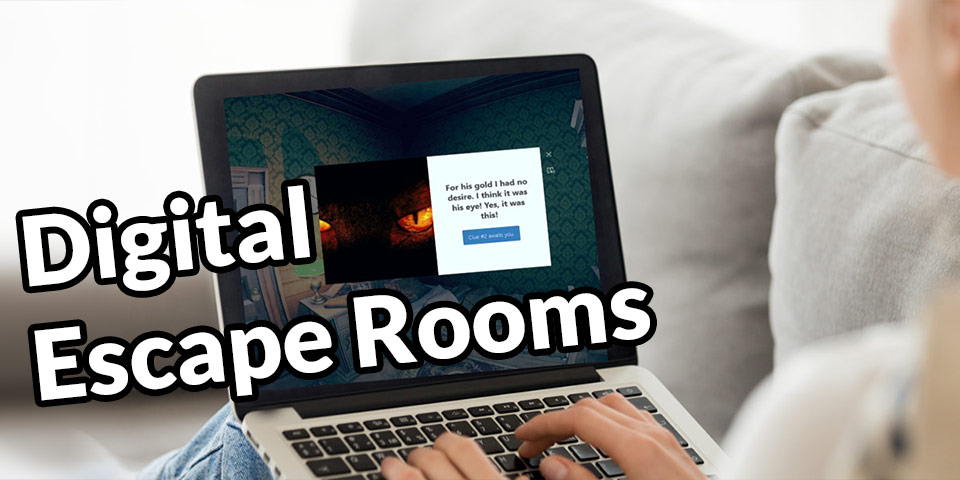 Samantha Ribera is using the Kuula virtual tour software to design impressive, educational digital escape rooms for teachers, parents. She is sharing them via a website called Teachers Pay Teachers - a marketplace where teachers buy and sell original educational materials.
Physical escape rooms
We're sure that by now you heard of escape rooms. It is an increasingly popular type of adventure-based game, in which players work together to solve a series or riddles and puzzles using hints, clues, and problem-solving skills. Often, the escape room game takes place in a physcial space, such as an actual room.
Digital escape rooms
Digital (or virtual) escape rooms are exactly what you think: it's the same concept, ported over from the physical world to the virtual space. By using 360 degree imagery and features such as hotspots, tooltips & cards, the player is invited to explore and solve a virtual mystery. The virtual tour format is ideal for this purpose, since it allows to create immersive and interactive experiences that are easy to share on-line.
To get a better idea, we invite you to check Samantha's Teachers Pay Teachers profile page, where you can view, access and experience her projects. Her escape rooms are designed to be used by teachers with their students or parents with their kids.
Below, we present a short interview we did with Samantha.
Hello! Tell us a few words about yourself.
My name is Sam. I've taught English at the middle and high school level for the last five years. I'm a new mom, and currently taking time off from teaching full time to raise my young children at home.
How do you design your experiences?
When designing each escape room, I brainstorm what I would like the theme and educational outcome to be. For example, for my Harlem Renaissance escape room, I designed a digital room with a 1920s speakeasy vibe, filled with a bar, a dance floor, a stage with musical instruments, and artwork on the wall from the era; additionally, there is jazz music playing in the background. It is possible to create these rooms using 3D animation software and turn them into panoramas with the advice found in this Kuula blog post.
What is the audience for your digital escape rooms?
I designed the escape rooms with secondary students in mind; the activities are appropriate for traditional classroom students, distance learners, and homeschoolers. With all that said, the rooms are marketed to teachers as a fun, innovative learning resource that aids in reading comprehension.
Preview video of the Tell tale Heart. escape room
Why do you create your digital escape rooms?
I currently have five escape rooms operational, and teachers can access them by visiting my Teachers Pay Teachers store. I created these resources to help supplement my family's income while adjusting to my new role as a stay at home mom.
Preview video of the The Monkey Paw escape room.
How is the Kuula editor helping you in your work?
I originally created these escape rooms using a competitor's software that is more well-known in the teaching community. However, after receiving feedback that links were not working properly, I began searching for alternative programs.
This is when I discovered Kuula. I found that Kuula is more user friendly, has better customer service, and the pricing metric is far more transparent. Since using Kuula, I've received nothing but positive feedback from my audience!
Thank you for your time Samantha!
You can see previews of two of Samantha's escape rooms in the videos above. We also encourage you to check here TpT profile, where you can learn more.
If you would like to start creating digital escape rooms of your own, register for free today on Kuula!