How to create a Virtual Trade Fair Booth using Kuula - a case study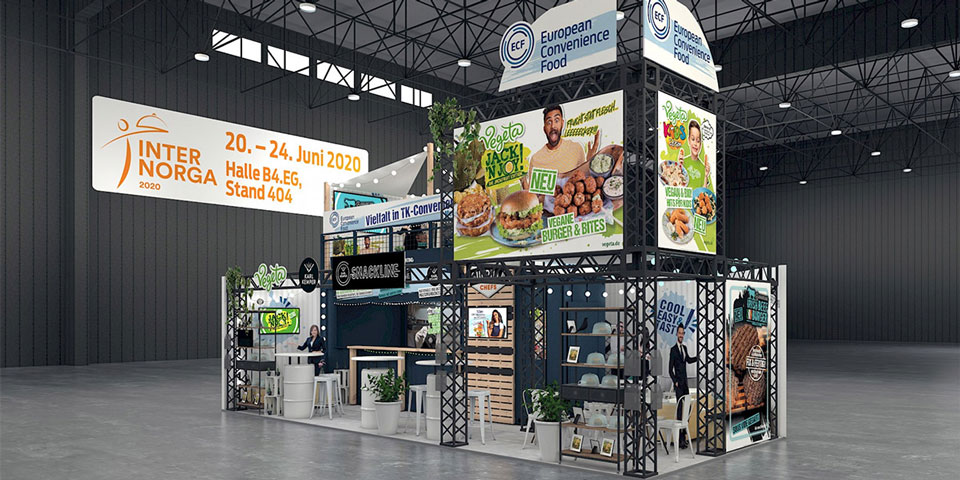 With live communication events being cancelled, many companies from the event industry had to try new things. Instead of substituting live events, many of them decided to increase the range of services and communicate in new, innovative ways and they started to offer virtual trade booths.
Founded in 2007, FACE2FACECOM specializes in trade fairs and events where people can interact with each other and brands can be experienced live. Their modular and custom made service is applied to projects around the globe.
With live communication events being cancelled, instead of substituting them, they decided to increase their range of services and communicate in new, innovative ways - virtually!
Using Kuula to create virtual trade fair booths was one of the solutions. Here visitors can watch product videos, browse catalogs, get to know new products and more.
FACE2FACECOM created a virtual exhibition stand for one of their clients, ECF Group. It was a collaboration between FACE2FACECOM, their designer partner Pawel Sudol and the content and graphics agency Wow-GmbH Corporate Communication.
This is a short interview we had with Stefan Wetzel, project manager and marketing executive from FACE2FACECOM:
Tell us what are the biggest challenges that your company is facing now
FACE2FACECOM – along with everyone in our industry – are facing very challenging times these days. Live communication events will not be happening this year. Everyone is coping with cancellations and how to hold all their employees.
How do you overcome the challenges
Giving up was never in the picture – so: Own the problem! Try new things! This was our answer. Do not try to substitute live events, but rather enlarge the range and try to communicate with your peer group in other, innovative ways. Pawel, our design partner has showed me Kuula before and I have always waited for an opportunity to realize a project using your software. Now the time was right and I am very proud of what we achieved and I was impressed by the usability and the possibilities Kuula software offers. Paired with extraordinary support, it was possible to realize the ECF project in just 4 days and nights (long ones 😃).
Here is the end product, a virtual exhibition stand with interactive elements:
Visitors are able to learn about new products, download recipes and more. Additionally, there is a search game on the virtual stand with which customers can win giveaways. This virtual exhibition is available on devices such as desktop, smart phones, and tablets, and using the VR headsets, viewers can immerse themselves completely.
With the help of the customer's digital agency, the virtual exhibition was shared on industry news portals, promoted on social media, such as Instagram and Facebook. Google Analytics can also be used to collect useful data. You can read more about this event here.
Live events cannot be completely replaced by virtual products, a viewer will not be able to taste and smell products virtually, but this is an effective solution until live events can return.
- Stefan Wetzel
If you would like to start creating interactive solutions like that, sign up at Kuula and learn how to get started creating virtual tours with us. It's easy!