We offer Ben Claremont's Virtual Tour PRO 20% off for Black Friday!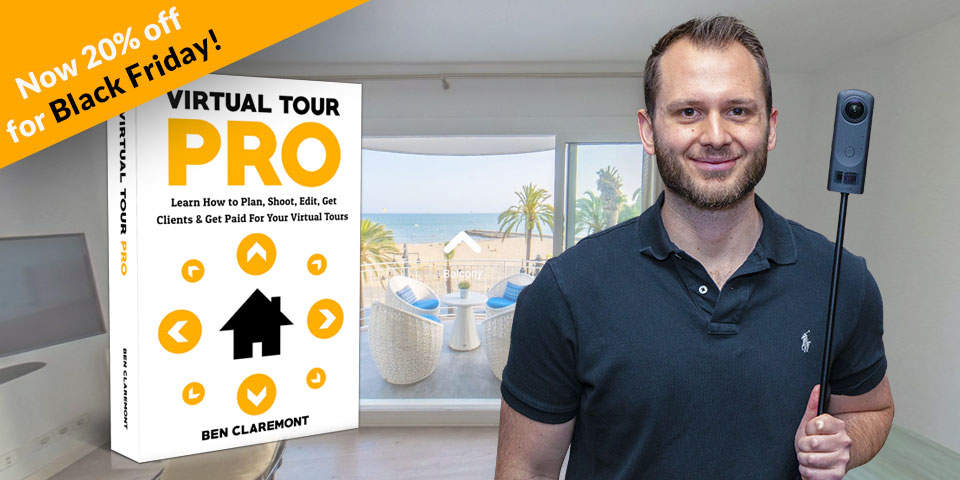 Ben Claremont, a veteran in the field of 360 video and photography, is now offering a video course on how to build Virtual Tours called Virtual Tour PRO. Ben's courses are unique, because he covers not only photography & software used in tours, but also the business side of it. Thanks to his years long experience, he is able to share a series of in-depth lessons full of practical knowledge. We feel honored that Kuula has been selected by Ben as his "Software of choice" when it comes to Virtual Tours creation.
This is a video comparing different virtual tour softwares - Kuula has been selected by Ben Claremont as his "Software of choice".
Ben always had a passion for capturing and sharing moments with others and over the years this passion has led him to grow an 100,000+ strong audience across different social media channels.
Throughout that time, he did experiment with almost every 360 camera and software available on the market, answered tens of thousands of questions from his audience and learned all the skills imaginable to make stunning 360 virtual tours. Now, he decided to use all of that knowledge to build the ultimate Virtual Tour video course!
Virtual Tour Pro is the ultimate guide to starting a virtual tour business from scratch. It includes 8 hours of in-depth, actionable videos teaching you how to plan, shoot & edit professional tours. You'll also learn who your ideal customers are, how to find them, pitch them, & get paid for your work. No matter where your skill level is, the course covers every step of your journey from virtual tour beginner to virtual tour pro!
Black Friday Deal
Now, for a limited time, all Virtual Tour Pro packages are 20% off. The offer is valid from the 28th of November to the 2nd of December 2019 with coupon code BLACKFRIDAY. Go grab your copy today!