Tips and tricks for shooting and editing 360 photos by Tomasz Mielnik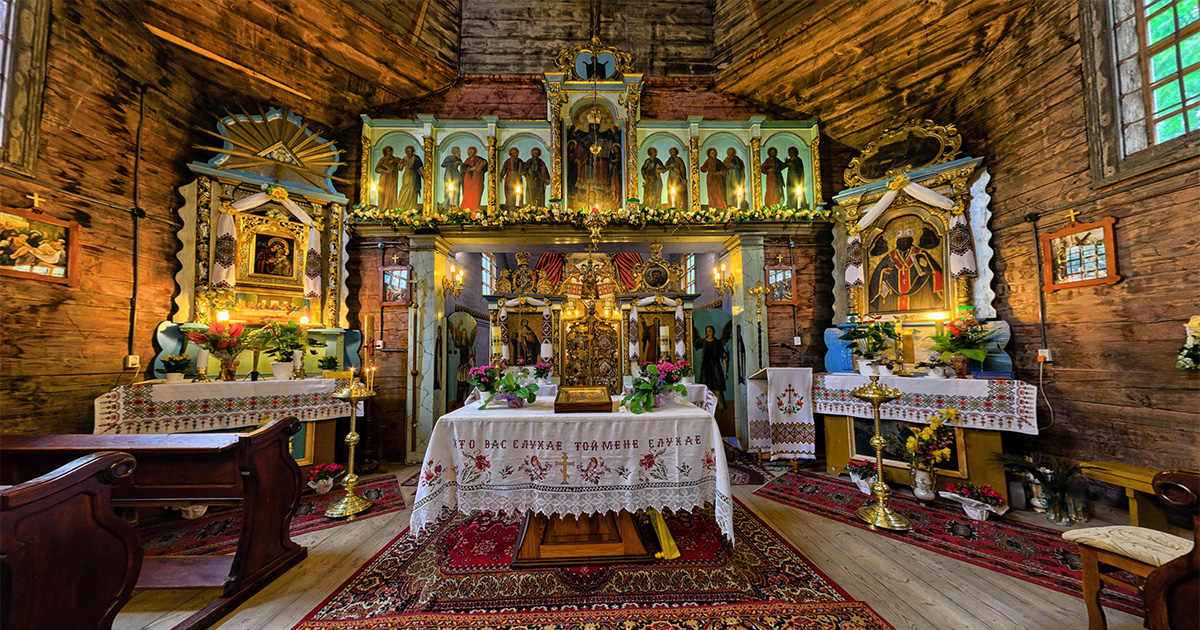 Today we present an interview with Tomasz Mielnik, a 360 photographer that comes from southeastern Poland. Poland has always been a place where cultures of the East and the West were merging and Tomasz is perfect in capturing the magic of that.
Saint Nicolas orthodox church in Hrebenne, Poland. Photo: Tomasz Mielnik.
Tell us a few words about yourself.
My name is Tomasz and I am a 360 photographer that comes from southeastern Poland. I create virtual tours and take gigapixel panoramas. I am involved in landscape and reportage photography. I take pictures of spaces, such as rooms or houses to provide 360 photo documentation and I've recently started digging into 360 degree video.
Although I take regular pictures, 360 photography is what I love. In my opinion a 360 photo is a better version of a flat image. If you have a normal picture, it's not possible to look behind the photographer. With a 360 photo you see the entire surrounding. That's why it's important to make sure that everything around you is artistically coherent.
Waterfall in southeastern Poland. Photo: Tomasz Mielnik.
When did you start taking 360 photos?
My passion for photography started when I was a kid. I got my first camera Smiena 8M for the first communion, when I was about 8 years old, the next one - a Russian SLR Zenith 122 I bought with my own money a few years later. When I was a kid I was spending hours in a temporary darkroom that was made in a bathroom. That's how I caught the bug of professional photography.
I was thinking about stitching pictures in a panorama for a long time. It became easier when I started using a digital camera. The first and successful attempt was about 8 years ago. I was at the Baltic Sea in Wladyslawowo where I climbed the observation tower and was standing 63 meters above the ground. Without using a tripod I took a flat panorama with an angle close to 180 degrees. The picture was huge, it had around 110 megapixels. Even a few years later, today, it's a great result. There were a few stitching errors, but for the first time the result of my work was stunning.
After this test, the desire to capture panoramas was even greater. As you know, photospheres need special panohead, which wasn't easy to get. With the help of a friend and after spending around $10 I was able to create a provisional panohead. It was working so good that I was able to take almost ideal panoramas. The only drawback was the unprofessional appearance of this device but I keep it to this day with sentiment.
A 360 photo, virtual tours and gigapixel panoramas are visually spectacular. More and more topics are being presented this way. They can show everything: hotels, guesthouses, clubs, restaurants and pubs. A 360 photo can amazingly reflect the atmosphere of mass events, historic buildings or museums. The combination of panoramas in one piece is called a "virtual tour" and can be interactively explored.
IR effect added to a forest landscape. Photo: Tomasz Mielnik.
What equipment & software do you use when taking a 360 photo?
I usually use Nikon DSLR cameras to shoot a 360 photo. You can also use point-and-shoot 360 cameras, such as Ricoh Theta, Samsung 360, or Nikon Key Mission.
To create a 360 photo I always work alone. Making a panorama from the very beginning to sharing it online, is a complicated process. You must have the equipment, and various types of software. I stitch panoramas using Autopano and process them in VRSmart and Krpano. The process of creating panoramas can take from a few hours to several days if you work with gigapixel panoramas. It is a very time-consuming process. However, if you are someone like me, a person who does it with passion, every moment spent on creating panoramas is a valuable time.
What would like to see in a 360 photo?
Firstly, I would like to see more gigapixel panoramas. One of my best work is a gigapixel panorama (two x 1.1 gigapixel) of a volleyball match Asseco Resovia Rzeszow. It is the largest spherical image and it shows around 5000 spectators of the volleyball match. Such panoramas are a real challenge to create as they consist of tens to several hundred photos.
Secondly, I would love to see a 360 photo looking technically perfect. It's like with regular pictures that are perfectly exposed. I would like the panoramas to look good, too.
With the mainstream point-and-shoot 360 cameras taking a 360 photo is a lot easier as the photographer doesn't need to look at the exposure time, aperture, or ISO. However, some of them end up being too bright, too dark, crooked or badly stitched. And that's the problem, they shouldn't be shared, as they look unnatural and not very impressive. For me, the very first most important thing when creating panoramas is their technical value.
One of the bunkers on the Molotov Line in southeastern Poland. Photo: Tomasz Mielnik.
What are the best topics for a 360 photo?
I love to photograph landscapes and church interiors. I love to take panoramas of the dying architecture in southeastern Poland where I live. In my portfolio you can see the ruins of the churches, synagogues, roadside crosses and monuments.
I offer my panoramas to restaurateurs, and owners of hotels, bars, pubs, cafes, owners of beauty salons, gyms, shops, car repair shops, bed and breakfast places and many other outlets. A 360 photo perfectly captures the space inside, products, interior decorations, and overall atmosphere.
Landscape of southeastern Poland with a painting effect. Photo: Tomasz Mielnik.
What is the biggest challenge of a 360 photo compared to a regular one?
The priority is to break the record in gigapixel panoramas. The biggest 360 photo so far is a 3 gigapixel panorama of one of the Polish cities, Przemysl presented on Przemysl360. There was a date set to break this record in spring, however spring came rapidly which changed those plans. Personally, I finished two 6-gigapixel panoramas from my hometown Lubaczow. Hopefully soon we will be able to do even bigger panoramas.
Do you also work in 360/VR video or games?
Recently I've bought a Samsung Gear 360 camera, which shoots photos and videos in 360 degree. However the quality of those panoramas is not that great. My first 360 panoramas were taken with Nikon D70s, which is little aged now, but it is still a very good camera. Despite effectively lower resolution of a picture being shot with the Nikon, the image quality is much better than the picture taken with the modern Gear 360. However, Samsung has some advantages when it comes to 360 video, as it offers 4k resolution.
How will 360 photography evolve?
The natural evolution of 360 photography is VR - virtual reality. Here you can combine panoramas with added effects and in addition a 360 photo can be viewed with a VR headset. It is very interesting for me to see the global trend going in this direction. You can generate VR worlds using computer programs, and then you can watch them using VR goggles, with no need to be physically present in that place. In the future I would like to combine a traditional 360 photo with computer generated graphics and build experiences in VR.
Thank you!
You can see more 360 photos on Tomasz's Kuula profile. You can also find a collection of his photos on Lubaczow360 and Tomasz Mielnik Photography. Soon Tomasz's work will be featured in the 2017 Calendar promoted by one of the biggest cities in Poland. Congrats, Tomasz!
Kuula is a community for anyone who likes VR, creative photography & great illustrations. On Kuula you can follow your favourite artists, get inspired, save your favourite posts and give feedback. Find out more at kuula.co.