3 reasons why real estate agents use a Virtual Tour software
The digital age is fully upon us! Each day, emerging technologies make that more and more evident. This is true even in pockets of industry we never thought would be affected - the ones for which we could not have ever imagined an alternative way of doing business.
Like say, real estate, for instance. Who'd have ever thought we'd be able to tour properties for sale without ever leaving ours own house?
What is a Virtual Tour software?
Virtual tour software allows for exactly that! While it might not seem possible for a real estate agent who does not also have a computer science degree to take advantage of this technology, Kuula is dedicated to making it accessible to all.
Formosa Gardens 7 bedroom, Thomspon, VR360homes.
The agents that take advantage of including walk-throughs and virtual tours with their listings are able to gain more interest and acquire better leads, which will help them sell more exclusive properties at higher price points than their competition!
1. More Serious Leads
The first tier of any good sales funnel is focused on getting eyeballs on the product your pushing. Including 360 virtual tours as a part of listing content goes a long way in spreading the word about the amazing properties you have to offer buyers. This ultimately helps bolster your reputation as an agent and the reputation of your firm.
There are also some practical, data driven ways to justify the adoption of 360 virtual tour software as a standard, best practice in your real estate business. When potential buyers are able to experience what it might be like to move through a space, they are more likely to spend more time on that listing, walking through the home at their own pace and based on what they need from a home.
More time on your listing, means higher Google rankings and is generally good for SEO. This might seem like an ancillary benefit, but now more than ever, real estate is beginning to mimic other digitally native businesses. Thus, it has become vital that agents begin paying more attention to markers concerned with SEO.
Once you've got those eyeballs, the 360 virtual tour can help in two fundamental ways: First, it sets your listing apart visually, highlighting the aspects of a home that are most likely to encourage next steps.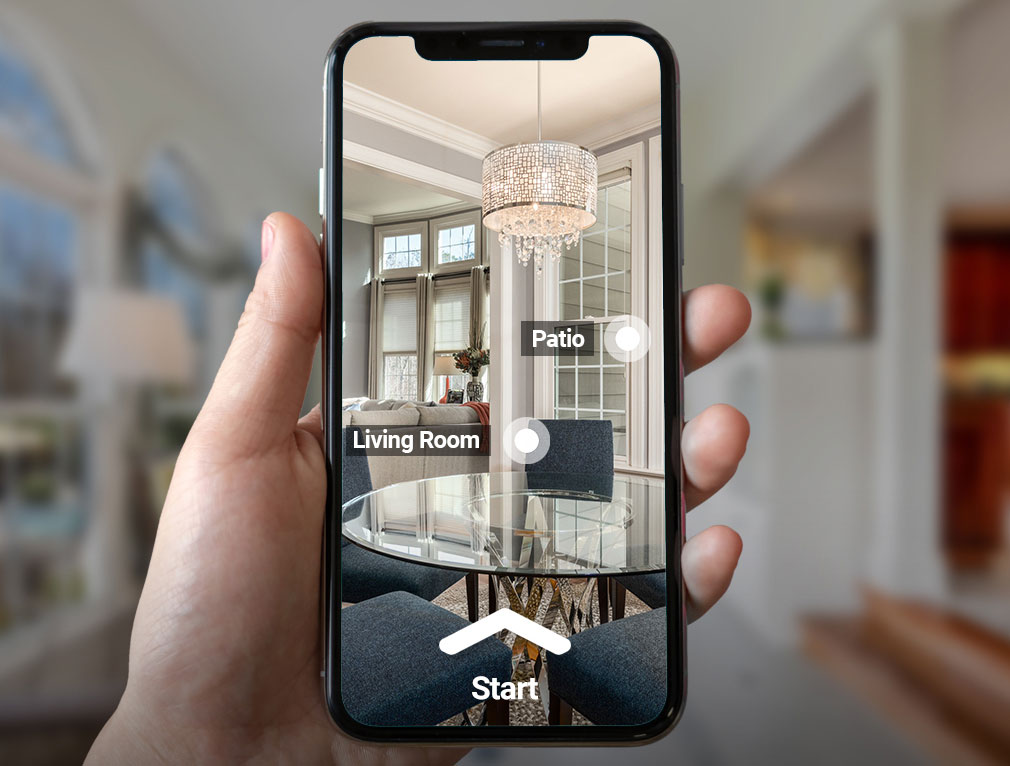 Kuula virtual tours work across all devices, on desktop, mobile and using a VR hedaset.
Statistics show that when viewing properties online, buyers decide within just 8 minutes whether or not they will move forward to the next step in the process. When those 8 minutes are spent immersed in a 360 virtual tour, buyers are able to truly fall in love with what is possible in a space.
This lends to the second way in which virtual tour software can help convert eyeballs into serious buyers. Once at a scheduled viewing, it's pretty easy to tell when you're dealing with window shoppers.
We can't necessarily blame them! Up until recently, how else would one come to understand the state of the market or what was even available at a given price point? But these days, 360 virtual tours are playing that role, making it possible for early stage homebuyers to get their feet wet in the marketplace 24 hours a day from anywhere in the world.
In this way, virtual tour software is also helping agents shorten that sales funnel. Now, agents can be confident that everyone reaching out to them for next steps are serious buyers. And that doesn't necessarily mean fewer total inquiries. In fact, some studies show 360 degree virtual tours render four times as many inquiries as standard listings and 49% more leads. You're not just sifting through leads for the strong few, but actually drawing more quality leads with people ready to make a move!
2. Quicker sales at a higher price point
Speaking of statistics, there is some interesting evidence out there suggesting the leads gained through 360 virtual tours are more competitive. For agents, this is great news! A competitive buying market means the ability to achieve higher sales prices!
But how do we come to this conclusion? Well, the more serious a buyer is about a single property, the more likely they are to make a competitive offer. Because you've leveraged virtual tour software, you have other serious interest from parties who will want to throw their hats into the ring.
This phenomenon can ultimately lead to a bidding war that drives the sale price of the property near or even beyond asking. In fact, there is research linking 360 tours to agreed sales prices as high as 50% above asking!
What's more, these big pay days can begin to be a regular thing! The homes you list using 360 virtual tour software are capable of turning over nearly 5 times faster than those listed with still imagery.
3. A Welcome Technology
Even despite the obvious benefits of 360 virtual tour software, some real estate agents are apprehensive. As with any new technology, sometimes it pays to wait until the technology has been well established in an industry, right?
Even just a few years ago, it was easy to see why real estate agents might think twice about allocating room for virtual walkthroughs in their marketing budgets. Even at low cost, how many people would the virtual tours reach? Afterall, it's about the eyeballs!
But, nowadays most home listing websites and real estate portals do support walkthrough tours. Zillow and MLS, are just a two. Each allows for 360 image and walkthrough content hosting as a part of its core functionality.
But what about the footage itself? While it might seem like the equipment needed for 360 footage would be expensive, the truth is the technology has become much more accessible over the past few years. And with access comes affordability. All in, you can get all the gear you'll need for 360 still and video footage for around $400.
No longer are shoppers required to imagine the transitions between still photos of individual rooms. The flow of a home is accessible to all, just as long as the listing agent has done their part, creating the necessary content with 360 virtual tour software.