New: partial panoramas, Embedly links, auto-rotate settings, VR on iOS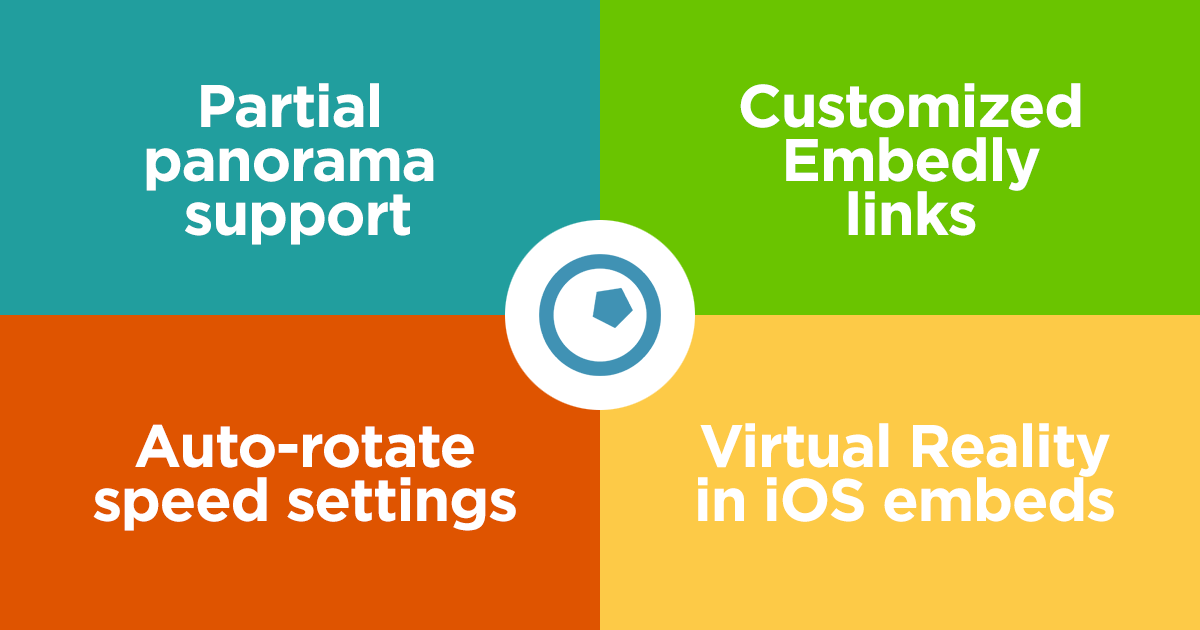 While we are working on some big features coming soon to Kuula, we recently deployed a number of smaller changes based on your feedback. Here's a list of what is new!
Partial Panorama Support
Not all panoramas cover the full 360x180 view area. Mobile camera apps allow to create partial panoramas and aerial shots often cover only the bottom half of the view dome - from the ground to the horizon line, but not the sky or only a part of it.
We decided to help our users who create partial panoramas. Kuula will now look in your files for special meta data called XMP. XMP tags can hold the information about what field of view is covered by the photo. You can learn all about it in this very helpful Google guide. If you make sure the XMP tags are present in your file - your partial panorama will display properly and the missing parts will be filled with black.
Software like PtGUI and Autopano add those tags to stitched photos automatically. The camera Android app will also add them if you make a partial spherical photo using the Photosphere option.
If your photo doesn't have the meta data and Kuula suspects your upload is a partial panorama, it will still do a "best guess" - but this method is not guaranteed to work each time and your photo may end up being distorted.
Embedly links in embed editor
A lot of our users use Embedly to embed 360 photos on their websites and apps. Embedly is a popular embed provider that Kuula partners with to deliver 360 photo support to platforms such as Medium, Linkedin and Matterport. So far however, the Embedly players were not customizable with the embed editor. Now, we added support for fully customizable embeded players with Embedly.
All you need to do is go to the embed editor for any post on Kuula and, after adjusting the settings you want, select Embedly from the code styles optins in the bottom left part of the screen. When you do that, you can copy the link from the code text field and paste it in your CMS system where Embedly is supported.
Autorotate speed settings
While you are in the embed editor, you will notice that the Autrotate button is no longer a simple checkbox, but now it's a slider. You can now adjust the speed of the autorotate settings and even reverse the direction.
VR mode in embeds on iOS PRO
Finally, there's the much anticipated update in VR support in the embedded player for our PRO users. So far we supported VR mode in the embedded player only on Android. iOS - which is the system running on Apple devices - doesn't allow fullscreen and gyroscope for embedded content. This makes providing VR in embeds on iOS very challenging!
Uur team spend time looking for possible workarounds and we were able to come up with a solution that - while not ideal - gets the job done. You can enable VR on iOS right now in the Embed editor and the VR google icon will show up in the top/right corner of your embeded player. Pressing this VR button will open the photo in a new, fullscreen window. After you rotate the screen to landscape mode, it will render in stereo mode suitable for viewing in a VR headset. There is also a close button that allows users to close the new window and get back to your page where the post was embedded.
That's all for now folks! While not big updates, every single one of them was requested by our users. These features show our dedication to listen to our community members and improve Kuula based on your feedback. We hope you will find those updates useful. More updates are coming soon!