Aurora, Mars Rover & Van Gogh's bedroom - Kuula Editors' Picks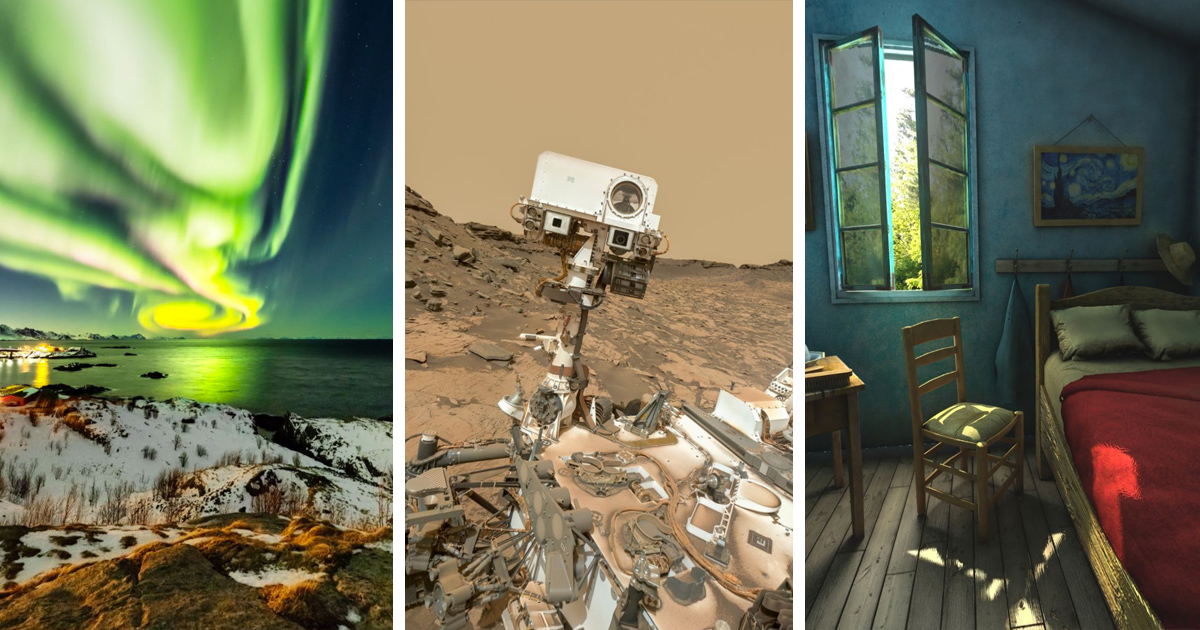 Kuula users post hundreds of 360 photos and images every day - many of them are amazing! This post starts the "Editors' Picks" series, in which we'll be sharing the best of the best on Kuula.
Many talented photographers and 3D artists have demonstrated their skills capturing well-executed photographs of landscapes, cities, lifestyle scenes or creating breathtaking 3D renders and illustrations. We chose the below images because we feel they best represent the diversity, creativity and the potential of 360 photos. We hope you enjoy them as much as we do. Congrats to all those who have been selected!
Northern lights by Martin Kuhlavy
Northern lights, Hamnøy, Lofoten, Norway. Photo by: Martin Kuhlavy
We are excited to present you this stunning close up photo of an aurora borealis. We love the way the green light is reflected on the surface of the water and on the snow in the mountains behind the city. This is a very recent coverage of an aurora in Lofoten, Norway. Martin Kulhavy went there just a few days ago. He spent many hours waiting for the perfect lights. It was well worth it, the results are fascinating!
Curiosity Rover by Tomasz Mielnik
MARS sol 1463, Curiosity Rover. Photo reconstructed from images provided by NASA/ JPL by Tomasz Mielnik
Have you ever wondered what life on Mars would be? Look at this amazing 360° image created out of NASA imagery by Tomasz Mielnik. Standing next to the Curiosity Rover, you can immerse yourself into the beauty of the Red Planet. Some people believe it will be possible to settle thousands of people on the Red planet sometime within the next decade. Can you imagine yourself living there?
Van Gogh's Bed Room in Arles in 360 by Ruslan Sokolovsky
"Bed Room in Arles" by Van Gogh 3d render in 360° interpretation. Created by: Ruslan Sokolovsky
At Kuula, we love artists that go beyond photography and explore uncharted territories in 360° imagery. Sometimes what catches our attention, is a clever composition trick. Another time it's a 360° illustration or graphics rendered in a 3D software. In this one, we love how well the modeling, texturing and lighting techniques were used by Ruslan Sokolovsky to create this stylized image that takes you right into Vincent Van Gogh's famous bedroom.
We hope you enjoyed our first selection. Share your ❤️❤️❤️ and give them a LIKE! Stay tuned for more great 360 photos coming soon! :)