How to create 360 Panoramas using Artificial Intelligence (AI)
If you've recently discovered the magic of Artificial Intelligence (AI) to generate images, you should know that it's now possible to create 360 degree panoramic images with the help of AI. This can be very useful for creating virtual tours, immersive images for your projects, or even for landscape and interior environment photography!
In this article, Kevin Hohler, 360 creator and teacher on the 360-drawing.com platform, reviews several methods for creating 360 images with AI, each with its pros and cons. Whether you're a beginner or an expert in AI and 360 image editing, this article should give you an idea of the different options available and help you choose the method that best suits your needs.
Method 1: Skybox Lab, quickly create 360 images with AI
If you're looking for the fastest way to create 360 images, Skybox Lab is the tool for you. This free online application uses Artificial Intelligence to generate 6144 x 3072 pixel 360 panoramas in just seconds, based on keywords you enter.
Skybox Lab benefits:
Easy and intuitive to use, no need to install software or create an account.
Skybox Lab is free.
Renderings are often of good quality, even for indoor environments.
Renderings are ultra-fast, taking only a few seconds to be generated.
Skybox Lab drawbacks:
Customization of the style and content of the 360 image is limited.
The seam (merging of the edges of the panorama) is not always perfect, as well as the nadir and zenith.*
It is not possible to modify a part of the panorama directly in Skybox Lab.
* These problems may have been solved since the writing of this article)
Method 2: Create 360 images from scratch with AI and the 360 editing tool
If you want total control over the content and style of your 360 image, you can use a method that consists of creating your 360 panorama from scratch using artificial intelligence. To do this, you can use tools that take into account inpainting, such as RunwayML, DALL·E, or Stable Diffusion combined with 360 compatible image editing software, such as Affinity Photo or PanoPainter.
This method consists of generating images from different 2D viewpoints and then merging them to create a 360 panorama. This is possible thanks to the use of AI tools that allow inpainting to create continuous and homogeneous images. This technique allows a greater control of the content and style of the 360 image. However, it is more complex to achieve and often requires several hours of creation to obtain a satisfactory result.

The advantages of this method:
Total control over the content and style of the 360 image.
You can generate a high resolution image, 10000 x 5000 pixels or more.
You can use Stable Diffusion and its many features and extensions.
Disadvantages of this method:
Requires more time to create (usually several hours to get a satisfactory result)
Requires the installation of Stable Diffusion or the use of a paid online tool such as RunwayML or DALL·E
More complex to achieve
Interior renderings can be more difficult to achieve.
Here's the live 360 version of the panorama:
Method 3: Skybox Lab + AI tools + 360 image editing software
Method 3 is simply a mix of method 1 and 2. You will start by generating a 360 image with Skybox Lab.
Then you can customize and improving it with tools that allow inpainting such as RunwayML, DALL·E, or Stable Diffusion. You can also use more traditional image editing software that supports the 360 format such as Affinity Photo or PanoPainter.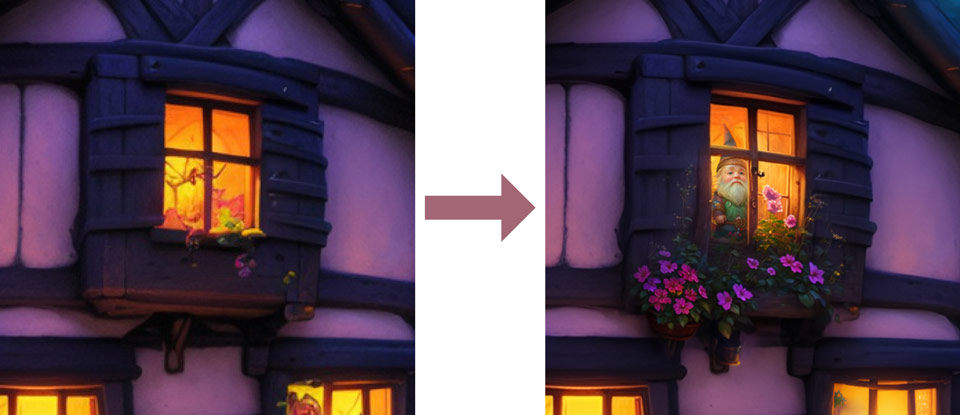 The advantage of this method is that you can quickly get a quality 360 rendering with Skybox Lab, while having the possibility to customize and improve it using other AI tools.
Author
Kevin Hohler is the founder of 360-drawing.com. It is a learning platform dedicated to the creation of 360 illustrations. Currently, you will find courses to create 360 images with AI. Other courses are being written, such as "Drawing 360 with PanoPainter or 3DCoat", "Creating 360° mazes", "Creating 360 photo montages", and many others.
For a limited time, get lifetime access to all current and upcoming courses now with 40% off your access using the code GIFT360.