Learn about 4k 360 cameras that produce the best quality photos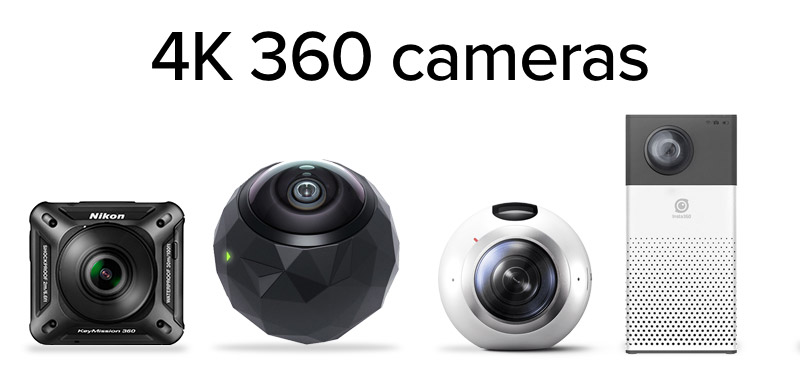 This article was written by Daniel, creator of threesixtycameras.com – A website dedicated to reviewing and comparing all 360 Cameras.
Want to produce high quality 360 images? Make sure your camera can shoot in 4K!
I don't know about you, but I've spent more time than I'd like to admit exploring the featured photos on the Kuula home page. 360 degree photos are an exciting new medium that people are responding too positively. Being able to capture everything around a camera instantly is something that was unimaginable just 10 years ago. But here we are, Kuula is already full of thousands of amazing 360 photos and if you want to add to the collection, you need to make sure you have the right camera.
Before 2016, taking a fully immersive 360° photo in high quality required a very expensive DSLR kit, dozens of individual photos and hours of editing, now there are half a dozen affordable 360 cameras that are no more difficult to use than your phone. I took the plunge over 6 months ago and bought a 360 camera, since then I've taken hundreds of 360 photos and uploaded the best ones to my Kuula account.
Before you you think about purchasing your own camera you need to make sure you know what to look for. The most important thing to consider when purchasing a 360 camera is the resolution, because 360 photos require a much higher resolution than normal photos to look decent.
So what should you be looking out for? For high quality 360 photos you will want a camera that can shoot at 4k resolution at least, this should produce photos that look similar to normal HD photos. To make your search a bit easier I've drawn up a short list of 360 cameras that can shoot in 4K quality, so you can produce high quality 360 photos of your own.
Samsung Gear 360
Samsung released their first 360 degree camera earlier this year, although there wasn't much publicity to go with it. Never the less it's turned out to be one of the best 360 cameras under $400. It shoots in 4K, can be controlled remotely from your phone and has a range of manual control options.
I personally own this camera and have found it easy to use and able to produce excellent quality 360 photos. There are some issues with overheating when used for long periods and the camera is only compatible with the latest Samsung Phones, but other than that there are few reasons to not consider this affordable and high quality 360 camera.
Insta360 4K
The company behind this camera produce several 360 cameras in several price ranges, this is their top model. The insta360 4K is obviously a 4K camera, built into a candy bar shape with a dedicated app. The camera is compatible with and modern iOS or Android phones and can shoot both photos and videos in 360 degrees. The camera is on the expensive side but still under $500.
360 Fly 4K
The 360 Fly 4K is first a foremost an action camera, competing directly with GoPro. The 360 Fly can shoot 4K video, is splash proof, shockproof and dustproof. The camera is designed to be used in extreme conditions and sports such as skiing, cycling and rock climbing. One downside to this camera is that it can't shoot in full 360 degrees, it has a slight blind-spot when looking down in the 360 view.
Nikon Keymission 360
Nikon is a well-respected camera developer, so there was a huge amount of excitement when they announced their first 360 camera. Released in October 2016, the Nikon Keymission 360 has been met with mixed reviews, however it is still a powerful 360 camera capable of shooting in 4K quality. Nikon may have ironed out the issues by now so it's definitely still worth considering.
These are just a selection of the 4K 360 cameras currently available at affordable prices. All of the above cameras can shoot full 360 photos and videos in 4K, however there are a few other 360 cameras that can shoot 4K quality photos but not video, such as the Richo Theta S. You can compare the specifications of all popular 360 cameras in much greater detail by taking a look at my 360 degree camera comparison table.