2019-07-15
How to create Virtual Tours
Whether you have shot a series of 360 photos in physical space (house, office, etc...) or you rendered the panoramas using 3D software - you can upload the resulting images to Kuula and turn them into immersive, interactive presentation.
This is the coolest thing you can do with the Kuula editor, so let's jump right in and learn how to achieve that! Spoiler alert: it's pretty easy.
Step 1. Upload the 360 photos
Make sure you have all the photos for the tour grouped in a folder. We recommend that you give the files good, descriptive names such as kitchen.jpg, bed-room.jpg or main hall.jpg instead of IMG_2847.jpg. Kuula will automatically pull those file names and use them as post description, so you will immediately know which photo is which. This is not always obvious by looking at the thumbnails alone.
Now, go to the Create Tour section that you can find in the top bar, under Upload or in the side menu. Make sure the first tab, named Create Tour, is selected and enter a name for your new tour. We also recommend to add the optional description.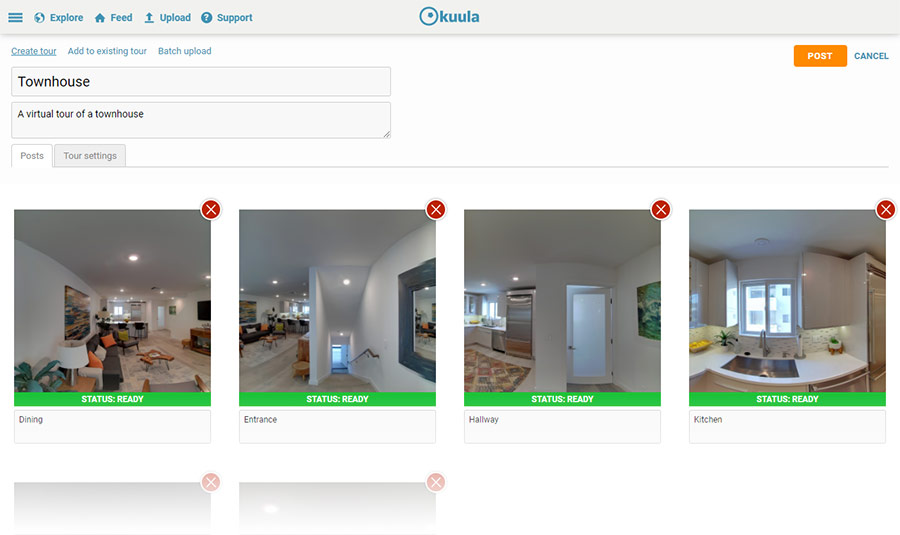 You can also select the type of animated transition used in this tour, enable the Walkthrough Mode or add a background Audio track. If not sure what to choose - don't worry, you can easily change any of those later on!
Now, you are ready to add the photos. Drag & drop files from the folder on your computer or select them from the local drive by using the Select Images button. After the photos are all added, they will show up as a grid of thumbnails.
Before posting the tour, you can change the order and edit the individual photo descriptions. This is where careful file naming pays off! You can also remove some photos if you decide you don't need them in the tour after all. When you are done - just hit the big Post button in the top right.
Step 2. Add hotspots
At this point you have a functional collection composed of your 360 images. It's great, but it is not a Virtual Tour yet!
The next step is crucial: you need to add hotspots that will connect the images together in to a virtual walkthrough. Optionally, you can also add hotspots that open interactive cards with additinal content - photos, text, video or even another tour.
Here's how to get started. After you post the tour, you will land on the new tour page that looks like the screen below. From here, you can start editing the individual posts in the tour and add interactive elements such as hotpost or text labels.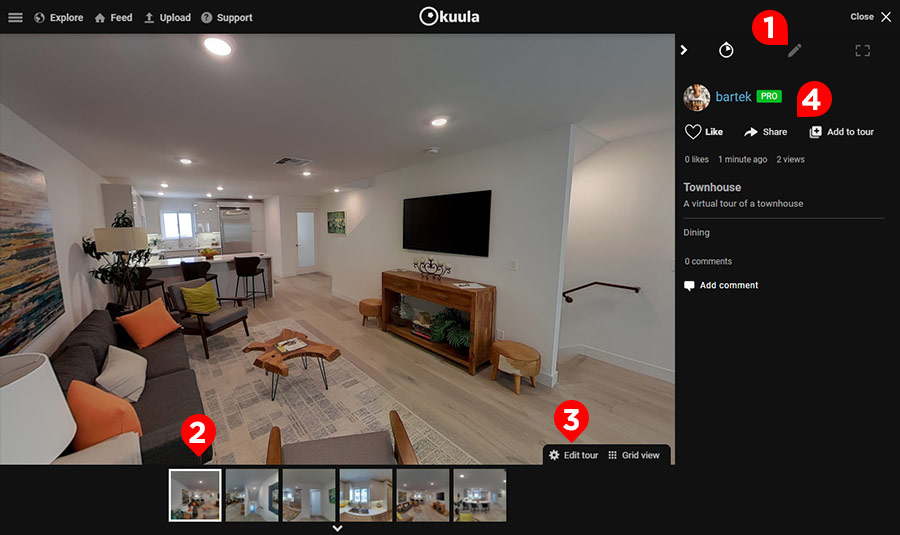 For a detailed tutorial on adding and editing interactive hotspots, please refer to our Hotspot Tutorial.
Step 3. Add 2d assets such as a floor plan or a map
You can also add a regular, non-panoramic images to your tour: it can be a floor plan or a map, a cover image or anything else you want. Please refer to this tutorial to see how.
Step 4. Share the tour
After you did all the edits, you are ready to share the tour. There is a lot of ways to do that and it all starts with the Share button located at the bottom on the tour page, as shown below.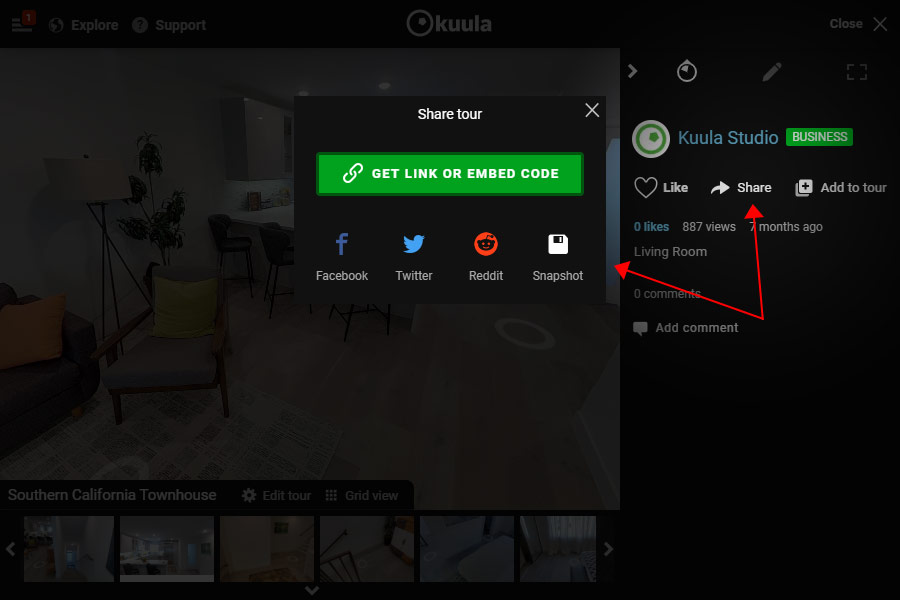 The most important sharing tool at your disposal, is located under the "Get link or embed code" button. This is where you can customize the tour before sharing it. You can enable features such as auto-rotate or auto-play, remove the Kuula UI, add your custom branding and use many other settings.
Once you adjust the settings to your liking, you can grab a unique link to share directly via email or instant message such as Skype or Whatsapp or you can copy an embed code to add the tour to your website or listing.
Besides that, the share popup offers some "quick" options. You can copy a deep link to the tour or share the tour on Facebook, Twitter and other social networks.
Do I need a PRO account?
Most of the functions described above require a PRO account. This includes unlisted posts & tours, hotspots and changing the order of the posts in a tour.
If you are on the Kuula basic (free plan), you can still create tours, but the available options are limited. The Batch upload is limited to 5 images at a time and there is a total limit of 100 uploads every month. Also with the free plan, all hotspots are private and can't be shared publicly.
With Kuula PRO, you can create public or unlisted virtual tours with no monthly upload limits. You can also share and embed the tours with your own logo or with no branding at all.